My last blog, One Little Symbol Can Change Your Job Search From Stuck to Success Part 1,  featured the QR code and how it can be used for the job search.   In today's blog, I will share my experience with one generator that is right for job searchers. 
I did some searching online to find the best QR generator for job searchers and came up with qfuse.com   Highlights of this generator include free code generator, easy to use, includes free analytics to see the statics on the scans and the free version has plenty of features.  Best of all it's easy to use.
The best feature of this generator is the free mobile website that is packed with
p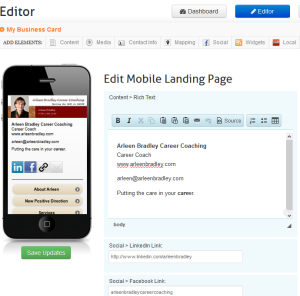 owerful information.  Including contact information, pictures, if you wish, and is customizable.  You can move sections around to suit your needs.  There are options you can choose from to add or remove. 
This image is a screenshot of the editor for the landing page.
Qfuse.com allows customizing the titles and the location of the section buttons.  Below the button is a space for text.
The homepage has options for bullets, numbered lists, tables, links, and text.  You design your page with WYSIWYG. 
There are several landing page templates you can choose.  This one is the business card template.  Other pages include content, event, schedule, gallery, video, personal, business card, contact, and promo.     
While this site is an excellent product, there are a few drawbacks.  One is the QR code image.  The free version provides you with only a png image.  With a paid account, you can add more pages to your site.  The images you put on the site cannot be formatted without a premium account.   Another disadvantage is the limited statistics with the free account.  This account only gives you unique and total scans on your QR code.  This is the same as most other generators.  There are  other features that might be useful.   However the free features are sufficient for a job searcher.
I found it to be customizable for my immediate needs and easy to use.  What I like is that I can change the function of the page without changing the QR code.  From what I have seen, this appears to be the best for job searchers.