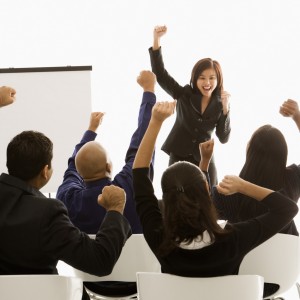 If you were to ask me how I survived my unemployment, I would say it was through my job search networking group.
It as through the support of the people of the group that I first learned I was not alone.  I shared the same feelings of loss, grief, frustration and loneliness.  The group was made up of people from different occupations and levels.  It was a diverse group of men and women all sharing the burden of job loss.
Sharing the typical struggles of looking for meaningful employment allowed me to use what I knew to help others.  What they knew helped me.  It was like to the stone soup story where the towns people claimed they didn't have anything to share.  But one by one they started sharing what little they had.  Soon they had a feast.  My group also had a feast.  A feast, not of soup but of useful information and leads for finding a job, coping with the job loss and dealing family and friends.  As members used this information, they started finding jobs.  New people joined and added new information, and the cycle continues to this day.
What I learned from the group was I wasn't alone, they felt the same as I did.  Some were better educated, were better qualified, and felt isolated just like me.  I saw that sharing information and leads were the way to feeling less alone led to becoming more positive and hopeful resulted in a getting hired.
I thrived in this group as did over 300 people.  Only a handful remains on the search.  Some got jobs and lost them more than once.  From this experience, I became a career coach so that I could provide positive experiences for others needing the emotional support along with the sharing information and leads.
I highly recommend anyone out of work and looking for a job join a job search networking  and support group.  The information is helpful, and the support is valuable beyond words.
Arleen Bradley is a certified career coach and certified job loss recovery coach.  She assists clients in moving beyond job loss grief in order to land dream jobs.  To learn more about the Job Loss Recovery Program and how you can benefit from it, log on to   www.arleenbradley.com.
Do you feel all alone in your job search?
Do you feel like no one understands what you are going through?
Looking for state of the art job search strategies?
 If you answered yes to any of these questions you will love the Job Search Networking Support Group.  Click here for more information.