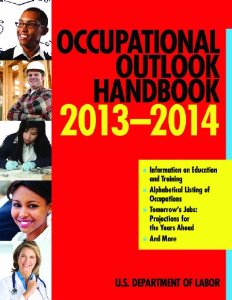 The world is flat.  Yes, I know Christopher Columbus proved it was round, but with the state of technology today, information is easily sent and received within seconds.  Technology is invented and improved steadily.  In this rapidly changing world some industries are fading away and others are emerging. 
If you are a job searcher, you need to know what careers are doing. Are they on the decline or on the rise?  The job search isn't fun and I don't know anyone wishing to do it again.  To prevent another lay off, you want to select an industry that is growing.  You can do research on occupations in the Occupational Outlook Handbook.  It can be found at:  http://www.bls.gov/ooh/
On the website you will find a tab called BROWSE.  To the right of the tab, there are three links.  The second tab is a link for the Fastest Growing (projected).  Following this link will take you to the page that lists the 20 occupations that are expected to experience the highest percent of change in employment from 2010 to 2020. 
The information is presented in a table format that lists the occupation, growth rate and the 2010 median pay.  The first occupation listed is the one with the highest projected growth rate.  It is Personal Care Aides.  The growth rate is projected to be 70% and the median pay in 2010 was $19,640 per year.
The term Professional Care Aide is a link to a page that has information about the occupation.  The information provided tells you what they do, the work environment, how to become one, the pay, and what occupations are similar.  Also on the page is a link to find out more information. 
Anyone looking for a new career will benefit from Occupational Outlook Handbook.  It can be found online, in libraries and you buy your own copy in bookstores. 
Bureau of Labor Statistics, U.S. Department of Labor, Occupational Outlook Handbook, 2012-13 Edition, Home Health and Personal Care Aides,
on the Internet at http://www.bls.gov/ooh/healthcare/home-health-and-personal-care-aides.htm