Today it seems like everyone has a phone in his/her hand .  Many people even use it to make or receive phone calls. To my son-in-law it's a watch.  My brother uses it as his calendar.  Kelly, my daughter uses many apps.  The best one I saw her use was the level.  During football season, my husband can't live without knowing the latest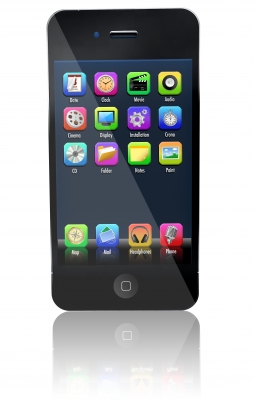 football score.  Brian, my son lives away from home but keeps up with news by reading the local news.
In my last post, I talked about how the features on your smartphone can be used to find a job.  If you are a job searcher, your job search is not limited to your home.  You can perform various job search activities wherever you are, and when you want.  For those of you who are new to using a smartphone for your job search, below is a list of apps that can help you find your next job while on the go.
The apps on this list can be used by iPhone and Android phones.  I tried to seek apps that use both platforms.  The app version listed is free.  Yes, free.  Many of the apps have a one-time download fee or a monthly usage fee for a premium version.
Many of the big job search boards or job search sites have a mobile version.  Most of the same features on the website are available on your phone.  The partial list is only a fraction of what you can find.
Beyond.com
Job Search by Indeed
Jobs by CareerBuilder
Job Search Engine LinkUP Monster Jobs
Social media is not to be left out of the mix.  Facebook, LinkedIn and Twitter all have mobile apps so you can keep up with your network, update your profile and send out information.
There are some apps that will help you with your job search in different ways.
 Bump:  Share information and photos from one phone to another or from one phone to another or from your phone to you pc.  Just by touching phones you can share contact information without having to use the tiny keyboard.
 CamCard Free: Business Card R Take a picture of a business card with your camera's phone and store the contact information right to your address book.  No more walking around with a stack of business cards when networking.
 Documents To Go:  View Word, Excel and PowerPoint documents on your phone.  Available free on Android, however, only as a paid version for iPhone.
Dropbox:  Store your resumes, cover letters, company research, reference, etc. in the cloud.  They will be available when you want them.
Evernote: Take notes, store articles, pictures and any information you need to write after interview thank you notes and more.
JobTweet Job Search:  Receive notification of all the latest jobs when they appear on the web.
 Labor Stats:  Get immediate access to the Department of Labor's Employment and Training Administration (ETA) and Bureau of Labor Statistics latest published numbers.
Wi-Fi Finder: Search for free and paid Wi-Fi everywhere you happen to find yourself.
 The above list is only a partial list.  There are many more apps that will help job searchers that I have not listed such as calendar, camera, maps, and internet browsers.  You probably already have these apps and can use them for your job search.  But I know there are more job search apps that I don't know about.  What do you use that I haven't listed here?
Arleen Bradley is a certified career coach and certified job loss recovery coach.  She assists clients in moving beyond job loss grief in order to land dream jobs.  To learn more about the Job Loss Recovery Program and how you can benefit from it, log on to   https://arleenbradley.com.
Do you feel all alone in your job search?
Do you feel like no one understands what you are going through?
Looking for state of the art job search strategies?
If you answered yes to any of these questions, you will love the Job Search Networking Support Group.  Click here to sign up.
Photo credit:  http://www.freedigitalphotos.net Salvatore Vuono