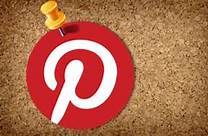 In my last post, I explained what Pinterest is.  The purpose of this post is to show you how you to use Pinterest in your job search.  It can be used to make people aware of your skills and experience in a way that stands out from everyone else using traditional resumes.  And it shows that you know and can use state-of-the art job search strategies online.
This post is divided into three sections.  The first is how to set up your profile so that it is optimized for a job search.  The second shows you how to use Pinterest in a job search.  And finally the third section is about precautions you should take to protect you and your content.
1)  SET UP YOUR PROFILE AND BOARDS:
a)    Optimize your profile.  Set your account settings so that your profile appears in searches on the various search engines.  Use key words that match your desired job in profile descriptions.  Use links to your website, Linked profile and other websites you have a presence.  Include your picture so that people can identify you as the person they are looking for.
b)    Keep your page easy to look at.  Create several boards with different topics and titles to match so that visitors can find what they are looking for easily.  Use links to articles and images instead of the entire article on your board.  When doing this, go to the original post and copy that URL instead of someone else's repost.  The repost may go away and your link is gone.
c)    Upload wisely.  The last item you post will appear first.  Keep that in mind when creating your boards.  The information you want people to see first should be uploaded last.
d)    Pin things that showcase your interest in your career.  Show your viewers you are passionate about your career by pinning things that show it.  Such as links to articles, blogs, and anything related to your career and industry.
e)    Keep up with your boards.  Information today comes to us very quickly.  Keep your boards fresh by updating them regularly.  Your boards can get old very quickly.
2)    Job Search
a)    Put your résumé and other information on different boards.  Put your résumé on one board, examples of your work on another, the companies, schools and organizations you are affiliated with on anothers. 
b)    Be creative.  Use an infographic resume.  Photos of your work, your former companies, schools and organizations are an interesting way to highlight the information instead of using text.  Pinterest is a visual medium.  Photos and images work well on this platform.
c)    Find career advice.   You can find career advice from career experts, college career services centers, and job search websites on their boards. 
d)    Cross-reference your information.  Include your contact information, LinkedIn and Facebook profiles, and your Twitter account on your resumes, cover letters and business cards.  Also, include your social media contact information on wherever you can to allow people to find you.
e)    Research company information.  Many companies are putting up boards on Pinterest.  Search the boards to learn more about the company that can be used in interviews.
f)     Look around Pinterest for boards that interest you.  Look for companies you would like to for, career advice, your competitors, your industry and everything you have an interest.  Leave comments to make you known to others.  Company boards are a great place to leave comments. 
g)    Look for interview outfit ideas.  There are many boards featuring clothing.  See what's current in fashion but keep in mind you need to be professional.
3)    Use with Care
a)    Protect your property.  Use a watermark on images of your work so that no one copy them and claim them as their own.
b)    Show you are professional.  As with the other social media sites, if you are in a job search, watch what you are putting on Pinterst.  Keep it professional and relevant to your career.  Pictures of tattoos, alcohol brands, questionable behavior and other such images won't help your job jearch.
c)    Watch out for spammers.  The images your repin from other sites should be from the original site.  If you repin from emails or other unverified sources, it could lead to undesirable pages, scams, etc.
d)    There are not privacy settings.  Use caution when posting anything on Pinterest.  Everyone and anyone can see what you put on your board.  Be professional, truthful, and cautious. 
Pinterest can help with your job search.  Understanding what you are doing will help you be successful.  In the next post, I will share with you what employers think of Pinterest and how they use it in recruiting candidates.  In the meantime, check out my Pinterest boards to get an idea about how to use it.  Click here.